Meet Our Charlotte Dentist Dr. Charles Añonuevo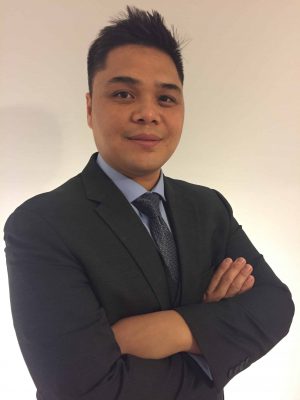 Dr. Charles Añonuevo studied at the University of Illinois School of Dentistry at Chicago in 2006, achieving a Doctorate in Dental Surgery. After graduating as president of his dental class, he became an Army officer and dentist. His permanent duty stations were in Fort Bragg, N.C., from 2006-2010, and Ft, Gordon, GA, from 2010-2014. He managed the comprehensive dental needs of his fellow soldiers and other military personnel. He was awarded the Army Commendation Medal during his deployment to Iraq in 2008. He left the Army as a Major after eight years but still supports the military whenever he can.
Dr. Añonuevo was raised in Chicago with solid Christian values and a sense of responsibility to aid others in need. After graduating college at Benedictine University with a major in molecular biology and minor in psychology, he decided the biggest impact he could have on the community was to help people smile. Being a general dentist is his small role to make the world a better place. His commitment to the public includes volunteer activities such as "Mission of Mercy" clinics, "Give Back a Smile" program, contributing to his local church, as well as mentoring students in their pursuit of professional education, hygiene school or a dental assistant certificate.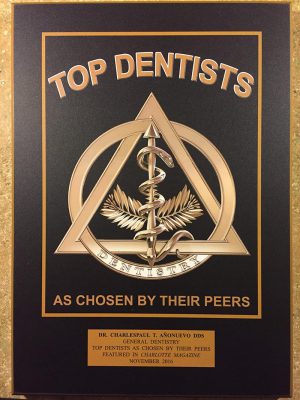 Dr. Charles Añonuevo is a member of the American Dental Association, Academy of General Dentistry, American Dental Education Association, North Carolina Dental Society and Charlotte Dental Society. He is focused on staying up-to-date on advancements in the profession. He also participates as a member of the Greater Charlotte Study Group and South Charlotte Study Group for continuing education. Being a full spectrum dentist, he believes in satisfying a majority of patient's needs through a one-stop-shop approach. His philosophy of practice is to consider that all patients are family and to provide the high cosmetic standards a loved one deserves.
Dr. Añonuevo and his wife, Glen, planted roots in Charlotte in 2014, raising two boys and a dog. Besides being a nurse, his wife is a big part of his practice team, helping patients receive the utmost quality of care. "Dr. A," which most patients lovingly call him, believes in the goal of helping people keep their natural teeth as long as possible, giving affordable options, and achieving a beautiful, healthy smile. Experience for yourself his friendly personality, genuine compassion, and easygoing chairside manner. Meet Dr. Charles Añonuevo.
Education
B.S. Molecular Biology and Minor in Psychology, Benedictine University
Doctorate in Dental Surgery, University of Illinois School of Dentistry at Chicago in 2006
Schedule an Appointment with Dr. Charles Añonuevo
To book an appointment with Dr. Añonuevo and discuss your dental needs, please call or email Inspire Dentistry of the Carolinas today.